Splunk Core Certified Power User Exam Questions & Dumps
Overview :
A Splunk Core Certified Power User has a basic understanding of SPL searching and reporting commands and can create knowledge objects, use field aliases and calculated fields, create tags and event types, use macros, create workflow actions and data models, and normalize data with the Common Information Model in either the Splunk Enterprise or Splunk Cloud platforms. This certification demonstrates an individual's foundational competence of Splunk's core software.
SkillCertPro Offerings (Instructor Note) :
We are offering 350+ latest real Splunk Core Certified Power User Exam Questions 2023 for practice, which will help you to score higher in your exam.
Aim for above 85% or above in our mock exams before giving the main exam. 
Do review wrong & right answers and thoroughly go through explanations provided to each question which will help you understand the question.
Master Cheat Sheet was prepared by instructors which contains personal notes of them for all exam objectives. Carefully written to help you all understand the topics easily.
It is recommended to use the Master Cheat Sheet just before 2-3 days of the main exam to cram the important notes.
Weekly updates: We have a dedicated team updating our question bank on a regular basis, based on the feedback of students on what appeared on the actual exam, as well as through external benchmarking.
Exam Details
Before diving into your preparations, you need to be familiar with the exam concepts and policies. Here are some basic exam details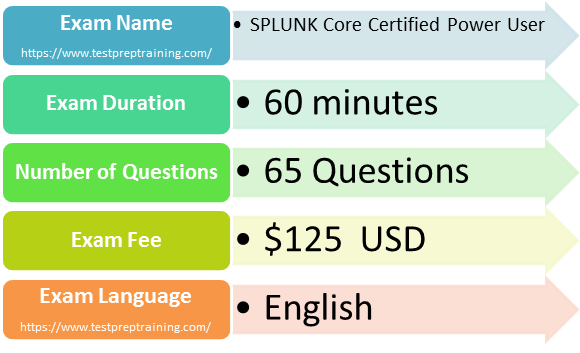 Exam Delivery Options
The splunk certification exams can be taken in either of the following ways-
Firstly, In-person at a Pearson Test Center.
Or at home via online proctoring
Exam Prerequisite
The Splunk Core Certified Power User exam is the final step towards completion of the Splunk Core Certified Power User certification. Therefore it is a must for you to pass the Splunk Core Certified User exam as a prerequisite for this certification exam.
Exam Registration : Splunk Core Certified Power User
The Splunk Core Certified Power Use can be prepared by following the steps-
First-time registrants need to connect your Splunk account to the Pearson VUE platform.
Additionally, you will have to submit complete, accurate contact information to testing partner Pearson VUE.
Then you need to wait for Authorization to Test email from Pearson View for two days from your form submission.
Subsequently create an account with Pearson VUE.
Further, you need to schedule an exam appointment. Your Pearson VUE Home screen provides a full list of exams for which you are eligible. Click through the verification screens and proceed to Schedule this Exam, followed by Proceed to Scheduling.
Further, you need to verify exam appointment details and confirm contact information. Agree to policies (please read carefully). Enter payment information (or Voucher code, if applicable). Submit Order.
Lastly, you will receive a registration confirmation email from Pearson VUE.
Practice all the tests multiple times and make sure you score above 85% in each of them
Go through each of the reference links and detailed explanation to make sure you understand the concepts for both the right and wrong answer.
Finally, as always we strive to make the content as unique and accurate as possible, but with the fast pace changes in the Cloud space, some of the concepts and. documentation is bound to be stale. We appreciate your constant feedback to help improve us further.
Our Instructors keep an eye on changes and will update the questions frequently
Passing Splunk Core Certified Power User exam renders you more valuable to an employer, it takes you closer to your goal to achieve the best salary and a new job opportunity for your career.